Taj Mahal Palace Hotel Trademarked
The Indian Trade Marks Registry recently granted trademark registration for image of the iconic 114-years-old building of 'Taj Mahal Palace' hotel in Mumbai, thereby making it the first in the country to secure such trademark registration as depicted below: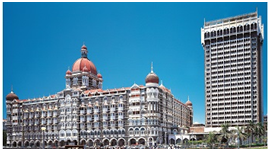 The story that was widely covered in main stream media with suggestions being made that henceforth royalty will need to be paid for taking a photograph of the building. There is an element of sensationalism in the news, however, the trademark granted to 'Taj Mahal Palace' hotel takes them into the elite club of trademarked properties across the world, namely, the Empire State Building, the Citicorp Center and Guggenheim Museum in New York; the Transamerica Pyramid in San Francisco; the Wrigley Building in Chicago; the Eiffel Tower in Paris and Sydney Opera House in Australia.
Scope of trademark rights
The trademark registration document shows that this application was filed for outside facade/image of 'Taj Mahal Palace' hotel on October 13, 2016 and granted registration in May 2017. The registration is valid until October 13, 2026 and can be renewed on filing a timely request. The registration covers "services for providing food and drink; temporary accommodation". In effect, the building design/image cannot be used in respect of services for which the registration is obtained without authorisation from the owner. In other words, no one can design a hotel or restaurant that is reminiscent of the image that has been registered.
What happens if a third party commercially exploits the image e.g., to make coasters, fridge magnets or let us say postcards with image identical or similar to the registered mark. Will the registration recently granted help? The answer is – it will be persuasive, however, the owner of 'Taj Mahal Palace' hotel will need to establish its reputation and goodwill, that is, rely upon its common law rights that exist independent of registration to stop a third party from copying its trade mark. As per the Trademarks law, the current registration only grants exclusive rights in relation to services for which registration has been granted.
Taking photographs with the building
You are safe to take photos with 'Taj Mahal Palace' hotel in background during your next visit to Mumbai so long as the purpose is not to commercially exploit the image.
Please follow and like us: