Delhi High Court Rules -'DIL AFZA' is not same as 'ROOH AFZA'
Sharbat, a drink made from plant and flower extract with sugar is a popular summer drink in the Indian sub-continent. Buying a bottle of sharbat may involve emotions but those who appreciate this deep emotion would be the first to be able to distinguish between 'Rooh' (spirit) and 'Dil' (heart), the Delhi High Court said while dismissing an application filed by Hamdard National Foundation (India) ("Hamdard"), manufacturer of famous sharbat 'Rooh Afza' seeking interim injunction against the manufacture and sale of 'Dil Afza' sharbat/ syrup by Sadar Laboratories Pvt. Ltd. ("Sadar"). In the suit, Hamdard had claimed infringement of their well-known mark 'Rooh Afza' and passing off of its products by Sadar due to their use of a similar mark 'Dil Afza'.
The images of both parties' products are provided below: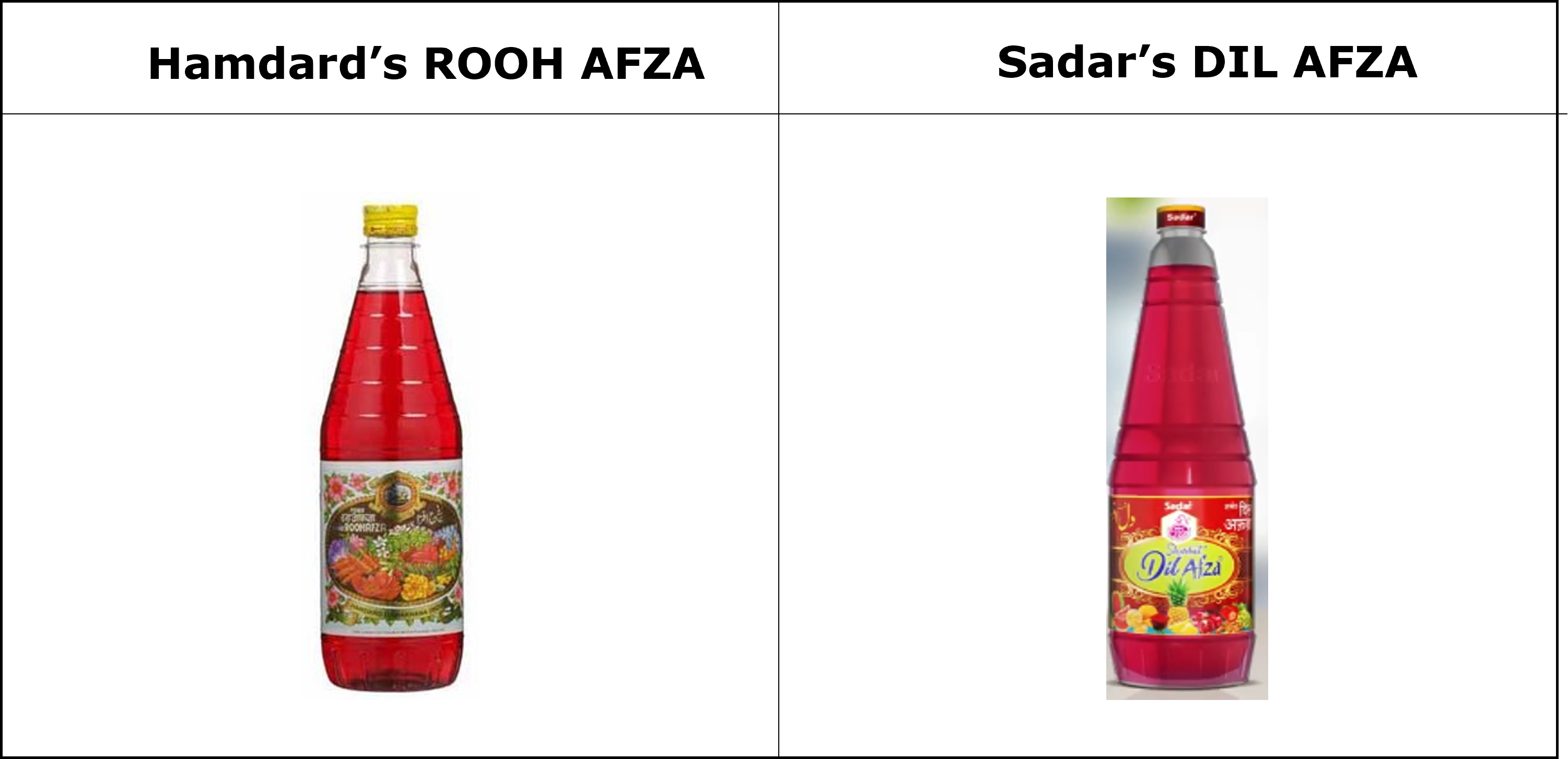 Hamdard based their case on the following grounds:
In March, 2020, they learned about an advertisement issued by Sadar launching their sharbat, bearing the mark 'Dil Afza' in deceptively similar ringlet bottles as that of the 'Rooh Afza' bottle.
They have been producing and marketing their 'Rooh Afza' product/sharbat 'Rooh Afza' since 1907 and had obtained first registration for its mark in 1942.
They have acquired immense reputation and goodwill in relation to 'Rooh Afza' and incurred heavy promotional expenses.
They relied on the case of Unani Dawakhana v. Hamdard Dawakhana where the Lahore High Court had held that 'Roof Afza' was a well-known mark, thus it fits in the definition of a 'well-known mark' under Section 2(1)(zg) of the Trade Marks Act, 1999 ("the Act").
Due to an oversight, they could not oppose Sadar's applications to register the mark 'Sharbat Dil Afza' in Classes 5 and 32, resulting in their wrongful registration by the Trademarks Registry.
They have filed rectification petition against Sadar's above registration asserting that complete details have not been disclosed to the Registrar of Trademarks.
As per Section 124(5) of the Act, interim injunction can be granted even if the suit is decided to be stayed pending the final disposal of rectification proceedings.
Sadar contended in their written statement as follows:
Since both marks were registered, the suit for infringement is not maintainable. Also, at the time of registration in 2018, their mark was duly advertised but no objection was raised by Hamdard.
The word 'Afza' has become common to the trade of sharbat and there are many players in the sharbat market who are using 'Afza'. And it is for this reason that the suit also refers to 'Hamdard' along with 'Rooh Afza', as it was 'Hamdard' which was the reputed and well-known mark and not 'Rooh Afza' alone.
Unani Dawakhana case relates to a case where identical marks were used, and the infringement had been by an entity which had no registration in its favour. Moreover, that decision was rendered under the old Act and whereas, the new Act provided for certain pre-requisites to be met before a mark was to be considered as a 'well-known mark'.
Their mark 'Dil Afza' had been in use since 1949 in Class 5 whereas 'Rooh Afza' was also being used in Class 5. Since 1949 till 2020, clearly no confusion had arisen. Thus, the adoption of 'Dil Afza' for syrups and sharbats was not mala fide.
The word 'AFZA' as per dictionary means, "increasing, adding" and Hamdard had not obtained separate registrations for 'Rooh' and 'Afza'. The registration is for the label in entirety i.e., 'Rooh Afza'.
The words 'Dil' and 'Rooh' are different – one meaning 'heart' and the other 'spirit'. There is also a huge difference in shape, label, fonts, color of caps of the bottles of syrups of both parties. In fact, it is a common shape of bottle available in the market.
Hamdard could only claim right on the whole word for which it has obtained registration and Hamdard has failed to show that the word 'Afza' had obtained a secondary meaning to relate to their products only.
Hamdard filed a rejoinder to Sadar's written statement, essentially reiterating that their mark 'Rooh Afza' has obtained a secondary meaning having built its reputation over a hundred years and Sadar has not filed any relevant supporting document to show their use of 'Dil Afza' since 1949.
Court's Decision
After considering the pleadings and verbal arguments of both parties, the Single Judge dismissed the interim injunction application, with a direction to Sadar to maintain and submit a quarterly report of true account of sales of 'Dil Afza' syrup/ sharbat during the pendency of the suit. The court's notable observations are as follows:
The standard to be adopted while determining confusion arising in the mind is of a consumer of imperfect memory or recollection and ordinary sense.
It would be taking an extreme position, even if the consumers were expert, to believe that the use of the words 'Rooh' and 'Dil' would cause confusion because they connote deep emotion.
Here, we are concerned with the common consumers, to whom the use of the words 'Dil' and 'Rooh' do not denote the same thing. Thus, there cannot be a confusion being created on account of the meaning of the two words.
Hamdard has not applied for or obtained registration for the word 'AFZA' per se. Thus, they can only claim exclusivity to the complete mark 'Rooh Afza' and not to its any part.
The word 'AFZA' could not be subject to exclusive use as there are many companies in the market using 'AFZA' for their sharbats.
While 'Rooh Afza', as a complete word may have acquired a secondary meaning indicative of sharbat produced by Hamdard, however, 'Afza' per se does not appear to be of that category.
The products of both parties are stated to be in use since last many decades in the Indian market. Being in the field of a sensitive market of medicine for such a long time, there has been peaceful co-existence with no confusion arising in the minds of the consumers. Even if sharbat has been produced by Sadar only since 2020, no case has been made out to restrain them from marketing their sharbat under the mark 'Dil Afza'.
Please follow and like us: